Hot Sales At TripleClicks – Today's Superdeal!
Retail price: $249.00
Super Deal price: $150.00 – You save 39% off the regular price 
Finally, a hassle-free computer. No annoying updates. Nothing complicated to learn. No expensive software to buy. Starts in seconds. And comes with all your favorite Google apps. The Samsung Chromebook is an ultraportable, sleek laptop for everyday adventures.
It weighs less than 2.5 pounds, is 0.8 inches thin, and offers more than 6.5 hours of battery so you can take it wherever you go. It's built to stay cool, so it doesn't need a fan and runs silently (no humming, unless you're playing music). The Samsung Chromebook runs Chrome OS, which means it has Google apps built-in, it's easy to share, and stays update to date automatically. Plus, the Chromebook has dual Wi-Fi to make it easier to connect to wireless networks.
SPECIFICATIONS:
* 11.6″ (1366×768) display
* 0.7 inches thin; 2.42 lbs / 1.1 kg
* Over 6.5 hours of battery 1
* Samsung Exynos 5 Dual Processor
* 100 GB Google Drive Cloud Storage2 with Solid State Drive
* Built-in dual band Wi-Fi 802.11 a/b/g/n
* VGA Camera
* 1x USB 3.0, 1x USB 2.0
* HDMI Port
* Bluetooth 3.0 Compatible
Samsung Chromebook  – Item # 171938
Retail price: $249.00
Super Deal price: $150.00 – You save 39% off the regular price
---
Retail price: $149.99
Super Deal price: $69.49 – You save 53% off the regular price
Get great grilled flavor every day from this compact, high-performance grill. It's small format can be put
almost anywhere for ultimate convenience. And although the grill is compact, its ample cooking grate is large enough to cook most family meals – 8 steaks, 8 hamburgers, 6 – 10 chicken breasts, or over 4-Pound of fish.
The grill heats up very quickly, and uses far less gas than a full-sized grill. Best of all, with its great portability features this grill can cook your meals wherever you go – the beach, the game, the campsite – anywhere.
Folding legs, grill lid latch, generous carry handle, and the spill resistant drip tray all enhance portability.
Big Grilling Performance
The Petit Gourmet doesn't compromise when it comes to keeping you well fed. Despite the compact size, the grilling surface is large enough to grill eight burgers, eight steaks, six to 10 chicken breasts, or up to 4 pounds of fish. The grill's superior heating performance stems from the powerful 5,500 BTU stainless-steel burner and porcelain-enameled grill grate, which combine to heat the grill quickly and evenly to more than 500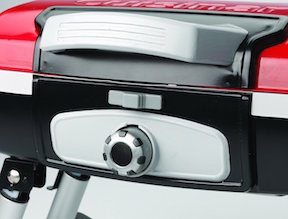 degrees F. At the same time, the grill's compact size keeps propane use to a minimum: a single 16-ounce propane canister will last for several hours, or you can connect it to a 20-pound propane tank for longer-lasting, permanent grilling (requires Cuisinart 4-foot LP adapter hose, sold separately). And when grilling is complete, the grate cleans up easily outdoors or in your kitchen sink.
Portability Made Easy
Built for convenience and portability, the Petit Gourmet includes a handy foldaway leg system integrated into the base of the grill. When you're on the move, the tubular aluminum legs and stabilizing feet stay tucked away on the grill bottom. Once you arrive, however, the legs lock cleanly and securely into place in a matter of seconds, giving you a stable, reliable stand for grilling on almost any terrain. Just find a secure surface, unfold the legs, and hit the electric lighter. No other portable grill goes from your car to cooking in such a short time.
The Petit Gourmet also features a secure lid lock on the front of the grill that keeps the lid closed when the grill is moved from place to place, along with a pronounced carrying handle that lets you tote the 13-pound grill briefcase-style.
PRODUCT FEATURES: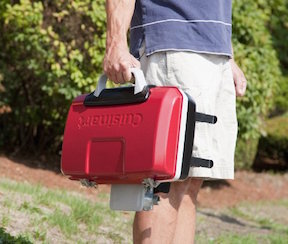 * Portable gas grill with 145-square-inch grilling area and foldaway legs.
* Cooks 8 burgers, 8 steaks, 6 to 10 chicken breasts, or 4 pounds of fish at once.
* Powerful 5,500 BTU stainless-steel burner and even-heating porcelain-enameled grate.
* Aluminum legs and stabilizing feet set up in seconds; integrated lid lock keeps lid secure.
* Pronounced briefcase-style carrying handle; weighs 13 pounds.
Cuisinart Portable Tabletop Gas Grill – Item=415766
Retail price: $149.99
Super Deal price: $69.49 – You save 53% off the regular price
---